I've been eating gluten free for a few years, and after lots of trial and error, I finally feel like I have established "favorites" in the world of gluten free grocery items!
All of these products I have tested and tasted and tried myself multiple times, and love them all. This isn't a paid post, so please keep in mind that these are just my personal opinions! 🙂 I tried to find a link for each product (amazon always has great rates), but some of these items I find in my small town grocery store. If you have any questions about these items, please comment! I love to help!
So without any more, here are my top ten favorite gluten free products!
1.  Bob's Red Mill Cup-for-Cup All Purpose Flour
I absolutely love this flour. I use it for everything from cookies and cakes, to breads, to coating onion rings and fried chicken. It's perfect for anything you would normally use regular flour for.  It's a bit pricey by the individual bag, but we always buy the four pack, and it lasts this family of three (plus a few gluten free market customers we bake for) two to three months! I used to create my own cup-for-cup flour mix, but it became far too expensive and labor intensive. Read my post about making my own all purpose flour mix here! This product is best opened one bag at a time and stored in an airtight container in the fridge. Sometimes it takes us up to three weeks to use one bag, but it always stays fresh in the fridge. 🙂
2. Bakery on Main Gluten Free Granola
I first tried this through a PINCHMe sample about three years ago in the mail. I had never heard of them before, but now see it frequently on our local grocery store and fresh market shelves! This interesting granola mix is crunchy, sweet, and just the perfect amount of salty. It could be great over milk, yogurt, or ice cream, but I pretty much just eat it plain! I follow Bakery on Main on Facebook, too, and you can find all their fun products and granolas here!
3. Goldbaum's Gluten Free Sugar Waffle Cones
I just recently discovered this brand of GF ice cream cones, and love them.They're crunchy, sweet, and perfect for an ice cream cone fix. Potato and Tapioca starch and natural vanilla are among the very few ingredients. An entire box lasted me all summer long! I found them at Walmart, and they were somewhere around $3. Not bad for a whole summer's worth of ice cream cones! Here's their website — I'm thinking about trying their Cocoa Sugar Cones next!
4. General Mills Cinnamon Chex Cereal
Yay, Cinnamon Chex! I could eat box after box of this stuff. It's inexpensive and usually right on the grocery shelves, even in my small town. You can also buy them through Amazon Prime Pantry for $2.24!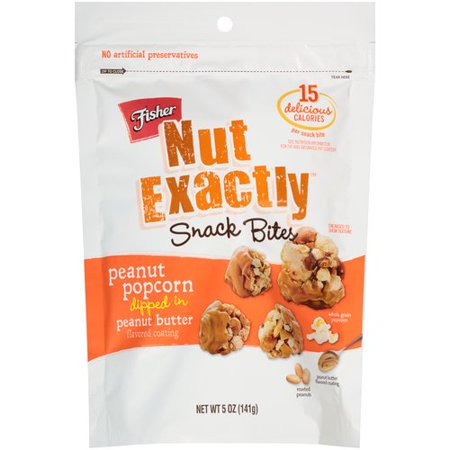 Fisher Nut Exactly bites are perfect for gluten free snacking. They are not listed as a gluten free item, and of course, are made in a facility that produces lots of nuts! However, their ingredient list is simple and naturally gluten free, so if you're non-celiac gluten intolerant like me, these are safe and delicious! Check out the allergen and ingredient list here! I love the dark chocolate almond flavor best, but also tried the peanut popcorn ones pictured above too. Perfect for a Friday night movie snack.
6. Gratify Gluten Free Pretzel Rods
Made with corn and potato starch, these tiny little snacking sticks really work for me! I've tried Glutino's and liveGfree, and Gratify is still my favorite. They've got more of a buttery flavor, and aren't too crunchy. They're kind of a mid-range price point, and I don't always buy them, but they can be a fun splurge for snacking! I love them dipped in peanut butter, paired with cheese, or just plain. You can find them at Walmart or on Amazon as well.
This is Kaldi's house blend coffee. Coffee is naturally gluten free, but some coffee brands, especially flavored coffees, can be sneaky and carry trace amounts of gluten! This is my current favorite coffee blend. I'm not a coffee connoisseur, but it somehow tastes fresh and decadent at the same time. The bean origin is from Africa and Latin America. I recommend whole bean!
8. Aldi's liveGfree Brown Rice Spaghetti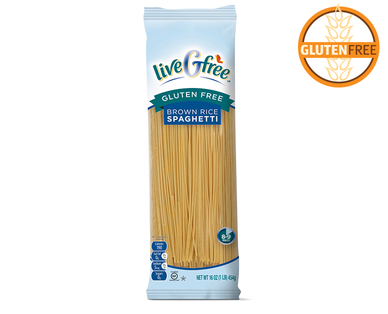 Pasta is a staple in our house, and it took me a while to find a frugal, basic, gluten free pasta that I love. Aldi's saved the day with their liveGfree brand pastas. They often carry Penne and Rotini, as well as this brown rice spaghetti, and the price is a friendly as you can get! (Usually less than $2 a bag!) It takes a bit of rinsing once cooked, but the price for this product is well worth it.
9. Aldi's liveGfree Gluten Free Chicken Nuggets
I think these frozen chicken nuggets are one of the best products on this entire list! I absolutely cannot tell that they are gluten free. In college, Hubby and I frequented the Wendy's down the street from our dorm, and chicken nuggets were my FAVORITE. I think these taste just like them! They only take a few minutes to bake up in the oven, and voila – you have a perfect, quick-and-easy meal! If you have gluten free eating kiddos, these are a must have. Another plus? They're run around $5 a bag. You can read another great review of these here.
10. Udi's Pizza Crust from Pizza Hut
I've been to only a few pizza places that can accommodate a gluten free diet. The Pizza Hut in our tiny town has been serving gluten free pizza using Udi's crusts for over a year now! I also learned that another local, privately owned pizza shop down town is serving gluten free pizza using the same crust, too! If you have any great pizza parlors or Pizza Huts you frequent, be sure to as if they serve Udi's! These crusts are thin and crispy (my personal fave!) and the employees (at least where we live) are very careful to store  and serve the toppings used for GF customers separately. Ask for Udi's Gluten Free Pizza Crusts at a Pizza Hut (or maybe even a local pizza place) near you, or find them here online.
So there's my list! All of these products I either already have in my pantry/fridge, or will buy again. 🙂 Hopefully my mini-review of my favorites will help others looking for great gluten free products. Please comment if you have questions!
❤